(10.0% ABV. Wheatwine, Bristol, England) 330ml bottle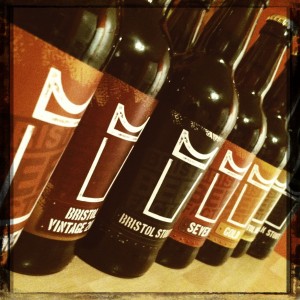 One of the very first commercially brewed wheatwines in the U.K. Rich, desserty and beautifully complex. A beer with massive cellaring potential as well as being moreish and delicious freshly bottled.
In keeping with many native examples of this new American strong ale style, Bristol Beer Factory have keenly experimented with the base idea of a strong wheat ale by aging it in bourbon barrels and by blending in some cold brewed coffee courtesy of Bristol's Extract Coffee Roasters. The malt bill of the beer is 75% wheat. For the uninitiated and non-brewers among you, that is a very high percentage indeed. The result of so much wheat; without getting too sciencey, provides loads of fermentable sugars for the yeast to eat up and convert onward to a hefty 10.0% ABV. Equally important is the uniquely smooth, creamy and full mouth feel that so much wheat protein gives the beer. Add to that the vanilla notes from the oak bourbon barrels and the roasted cocoa notes of the high quality Extract coffee and it's not a stretch to describe this beer's overall flavour and aroma as vanilla latte like.
This is the third release in Bristol Beer Factory's new Unlimited series of small batch limited release beers following a 7.0% ABV. Belgian Rye and an 8.5% ABV. Double IPA. This being a robust and strong wheatwine, it's the first brew in the series that has significant cellaring potential, the Belgian Rye and DIPA being designed to be enjoyed as fresh as possible. The aging and evolutionary potential of Wheat Wine is especially exciting given the complex profile of the beer.
Wheatwines are a relatively recent style by brewing history standards having only been very recently solidified and codified by the internationally recognised BJCP (Beer Judge Certification Program) organisation. The first agreed commercial example of this new strong ale style was brewed by Sacramento, California brewery Rubicon Brewing Company in 1988 and went on to inspire many other American craft brewers to experiment with their own wheat forward high gravity recipes. Some of the best U.S. brewed examples are White Oak by California brewery The Bruery, the maple syrup bourbon barrel aged Sweet Repute by Michigan's highly regarded Founders and Harvest Dance by Kansas City's Boulevard Brewing Company.
Like Russian imperial stouts and barleywines, wheatwines have become a mostly winter seasonal release in their homeland and appropriately Bristol Beer Factory is releasing their British take on the style in late November.