(6.3% ABV. Saison, Buxton, Derbyshire, England) 330ml bottle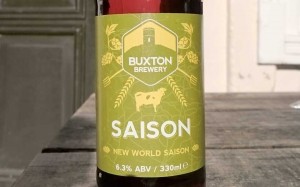 Say hello to the British farmhouse ale! Saison, Belgium's quintessential farmhouse beer style is now being brewed to a very high standard across the U.K. Buxton's is one of the best.
Saisons have become a staple of many of the U.K.'s best modern brewers and we here at The Beer Vault couldn't be happier that this massively overlooked style of beer is finally gaining the recognition it deserves in Britain.
This traditional Belgian farmhouse style of ale is hugely versatile and robust. A style in the broadest sense of the word, saisons are beers that were originally brewed upon farms in Belgium in the cooler months when the temperature was conducive to fermentation. The beers were usually then cellared for consumption in the warmer summer months by the farmers themselves and their saisonaires or seasonal workers. Typically possessing a potent spicy aroma, mostly the result of the lively ester producing yeast strains used, saisons are most often very dry and highly effervescent, giving them an almost Champagne quality.
Clocking in at 6.3% ABV, Buxton's house Saison sits very comfortably in the typical alcohol range for the style, which is usually somewhere between 5.0 and 8.0% ABV. although can go as high as 11.0 or 12.0% ABV. Due to their effervescent, dry and floral nature, saisons pair extremely well with a broad range of savory foods and Buxton's delicate and complex take on this traditional farmhouse ale is no exception. Why not use this beer to experiment with some saison food pairings of your own?