| 8.9% ABV. | Spiced Beer | Buxton, Derbyshire, England Buxton, Derbyshire, England | 330ml bottle |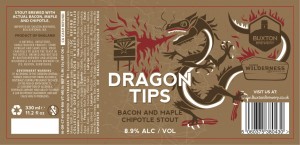 If one of the purposes of a collaboration beer is to push boundries and create  something new and exciting, then a strong stout brewed with bacon, maple and smoky chillies is definitely a big step in the right direction.
Few ingredients have found as much new and versatile fame in the past few years as bacon. You name it, the vulnerable breakfast meat has been used in it or on it. From bacon topped donuts to bacon flavoured vodka and everything imaginable in between.
There have been a few attempts to add bacon to beer, or at least the flavour of bacon, by some of America's more adventurous craft brewers. One of the most impressive and bacon-evoking beers ever brewed was surely Reinschweinsgebot, a bacon fat infused brown ale produced in very limited quantity in 2009 by Brooklyn Brewery's world renowned brewmaster Garrett Oliver. The beer truly did smell and taste like savoury smoky bacon.
Without getting too sciency, the main hurdle facing any brewer wanting to add meat or indeed nuts to a beer, is that fat can interfere with fermentation and also kill head retention, in addition to causing all kinds of other undesirable things to happen to the beer before it reaches the consumer. That said, such has been the desire to bring beer and bacon together – surely two of humankind's greatest creations, that brewers continue to beaver away trying to figure how to make a truly great "bacon beer."
If you are wondering how Brooklyn's brewmaster Garrett Oliver was able to pull off his bacon, he used a perfume industry technique that allowed him to transfer the aroma of bacon fat, without transferring any of the fat itself. Very clever and no doubt labour intensive.
Buxton Brewery and much buzzed about American brewers Arizona Wilderness Brewing Co. are the latest brewing pioneers to lend their hand at the ongoing bacon beer experiment. Their collab bacon beer Dragon Tips, is a big hearty 8.9% ABV. Imperial strength stout brewed with "actual bacon", maple and chipotle peppers. As you might expect, the beer is a smoky and complex beast, with bold notes of dark chocolate, salted caramel, espresso coffee, fiery spice and yes, that unmistakable earthy maple flavour. The exotic combo of added ingredients makes this a unique and delicious beer indeed, especially in the U.K. where maple and chilli are not common beer additions.
If this is your first foray with a bacon beer or indeed a chilli beer – we highly recommend pairing it with your favourite Mexican dish.
Be sure to let Buxton know what you think of this heady creation, it might well inspire them to brew another bacon based beer.