| 4.4% ABV. | American Pale Ale | Newport, Wales | 330ml bottle |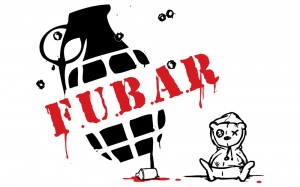 A bright, fresh and juicy American style pale ale brewed by one of the most exciting and awarding winning new breweries in Wales.
Tiny Rebel have done more to put Wales on the wider U.K. good beer map than any other brewery in recent years. Their core range of no nonsense American style pales, IPAs and stouts have won many dedicated fans beyond their local catchment areas of Newport and Cardiff.
The Newport based brewery is the brainchild former homebrewers Bradley Cummings and Gazz Williams. In 2012 they finally realised their ambition of opening a modern and forward thinking Welsh craft brewery and Tiny Rebel was born. Since then the brewery has gone from strength to strength, racking up some significant silverware in the process. Especially winning is their bright and vibrant American styled pale ale F.U.B.A.R. And, it's that beer it just so happens that we have chosen to showcase in this month's Lock Box.
Recipient of back to back 2013 (Silver) and 2014 (Gold) Great Welsh Beer Festival awards, F.U.B.A.R. is without a doubt one of the best beers being brewed in Wales today.
F.U.B.A.R. is an archetypal modern American pale, blending some of the best characteristics of both East Coast and West Coast pale styles. Representing the East are bitter herb and pine evoking flavours, and just a touch of residual malt sweetness. Representing the West are bright yellow and orange citrus notes and a lovely balancing dryness. The beer actually has a lot in common with the newly styled and very popular session IPAs – a lower ABV. (alcohol by volume) concept that is proving very popular on both sides of the Atlantic at the moment. The idea behind a sessionable IPA is that you get all of the juicy hop thwack of a stronger, heavily bittered and heavily dry hopped American India pale ale, one that would normally clock in somewhere between 5.0% and 8.5% ABV., but at a much more imbibable strength – somewhere in the 2.5% to 4.5% region. In other words, a craft beer designed with quantity in mind as much as quality, a beer you can happily drink for a few hours and still be cognizant when you go home. F.U.B.A.R definitely fits that bill, even if it's not being marketed as a session IPA.
If you're in the mood for something of a similar nature after you've enjoyed your F.U.B.A.R., we highly recommend the Siren Undercurrent included in this month's box, it's another fabulous and highly regarded British take on the ever popular American pale ale.