| 4.5% ABV. |  American Pale Ale | Finchampstead, Berkshire England  | 330ml bottle |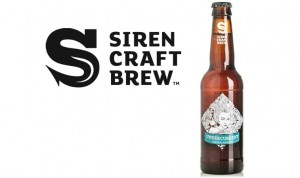 A spritzy and bright West Coast American style pale ale loaded with fresh grapefruit aroma. Smooth, with a tart fruity body and a dry finish.
We can't really discuss the outstanding Siren Undercurrent before talking a little bit about Cascade hops.
Cascade hops were born in 1972 in Oregon, the product of a U.S. Government funded program to create new, interesting, and yes, profitable hop varieties. It's safe to say that few involved with the creation of this yellow citrus fruit evoking new hop could have predicted it's importance to the oncoming craft beer revolution, then still some years off. But, important it definitely proved to be. Few other single ingredients or single factors have done more to provide our 21st century juggernaut of a craft beer industry with such an appreciated and exciting identity. Cascade's fresh and vibrant grapefruit character is the cornerstone around which Sierra Nevada's now iconic Pale Ale is constructed. The beer that more than any other inspired so many brewers and brewers to be up and down the West Coast of America to brew beers of a similar expressiveness, flavour and aroma. In many ways, Cascade is "West Coast pale ales". This new and lively style of pale ale, dry and loaded with yellow citrus aroma, still inspires many new craft brewers around the world who look to the style when designing their core beer offerings. Siren Undercurrent is definitely an American style pale ale that draws heavy inspiration from Sierra's granddaddy of the craft beer movement.
Brewed with Cascade and floral Palisade hops, Undercurrent has a bright citrus flavour and spritzy grapefruit aroma. The beer is provided a little more body with the addition of some oats in the boil, these also lend the beer a subtle smoothness. The finish is pleasingly dry, the sort of dryness that invites repeated sipping.
Siren were voted the second best new brewery in the World in 2013, no small feat given the extremely high number of breweries that opened around the globe that year. Since then they've only gone from strength to strength. Their core beer line-up, which includes Undercurrent, is one of the strongest in Europe and their increasingly productive barrel aging program is one of the most exciting in the U.K. Add to that a seemingly neverending parade of impressive one offs and it's not hard to see why Siren might well be on the path to much bigger things on both a national and international stage.