| 5.6% ABV. |  American Stout | London, England  | 330ml can |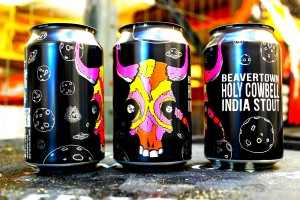 An extremely hoppy American style stout with huge licorice, black treacle and sappy pine needle notes. This is most definitely not your father's stout. It's loud, hopped to hell and bristles with bitter character.
Beavertown are one of the most experimental, yet consistently delicious, of London's many, many new craft breweries. The brewery started life in late 2011 in the kitchen of Duke's Brew and Que, in De Beauvoir, Hackney, London. Beavertown have moved twice since those humble beginnings and now operate out of a much larger facility brewing 30 barrels of beer at a time. That much loved old brewkit, on which they mastered many of their early beers, hasn't been forgotten though and still has pride of place in the new brewery where it's used to brew their freestyle Alpha series beers.
Beavertown are probably best known as we go into 2015 for Neck Oil and Gamma Ray, their flagship IPAs. Their striking branding and the fact that they're one of the only craft breweries in the U.K. canning beer, has also gone some way to helping catch the attention and taste buds of many new customers. If you're a founding Lock Box Member, you will know that we featured Neck Oil in our first shipment in December 2014. We're long time fans of Beavertown at The Beer Vault.
Holy Cowbell India Stout is Beavertown's latest beer to make the jump to cans. It has appeared as an occasional bottle before, but is now primed and ready to reach a much wider drinkership. The beer's beautiful new branding is the Beavertown's most impressive and eye-catching to date, and that's saying something!
The beer itself can be best described as a Southern California take on a American porter or stout. That means it's hopped very heavily with dank and citrus evoking hop varieties at every step of the brewing process – the beginning (bittering), middle (flavour) and end (aroma). This makes for a beer that is light years removed from a traditional chocolatey English stout or a roasty Irish Dry stout bringing it more into line with the kind of dark beers California's highly regarded Stone Brewing Co. brew. In many ways these aggressively hopped black beers have more in common with India pale ales than old school stouts. Indeed, there is a sub-style of American IPA called Black IPA (or Cascadian Dark Ale, if you're from the Pacific Northwestern U.S.)
So enjoy and celebrate this incredibly bold and modern incarnation of a Old World British beer style, it's a vibrant and exciting example of the fresh approach that new breweries like Beavertown are bringing to an industry that just a few years ago was decidedly uninspired and old fashioned indeed.