(5.0% ABV. American Pale Ale, London, England) 300ml can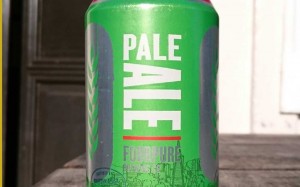 Great beer does come in cans! It's time to explode this silly myth once and for all, and thanks to London's Fourpure Pale Ale we have some damn fine ammo to do so. 
Fourpure Brewing Co. are one of the fledgling London based breweries that make up what has become referred to as the "Bermondsey Beer Mile," a cluster of seven breweries and a specialist bottle shop that include Anspach & Hobday/Bullfinch, Brew By Numbers, Partizan Brewing, Southwark Brewing Co and The Kernel Brewery.
Like many of the U.K.'s new craft breweries, Fourpure are heavily inspired by modern American craft beer styles and brewing techniques, especially the gorgeously aromatic and long dry finish pale ales and IPAs brewed in California. Fourpure Pale Ale has the pretty herbal aroma and even bitterness of Sierra Nevada's classic Pale Ale with a slightly more resinous body and fuller fruity finish. Fourpure have chosen, like some of America's most leading edge craft brewers such as Colorado's exemplary Oskar Blues, to primarily can their beer alongside a handful of bottled offerings. It's a decision that has been made surely in part to help prove incorrect the myth that canned beer is poor quality beer.
Fourpure's striking line-up of cans makes quite a visual statement, a statement that is reinforced thanks to the high standard of the ales and lagers contained within.