| 9.1% ABV.| American Strong Ale | Buxton, Derbyshire, England Buxton, Derbyshire, England | 330ml bottle |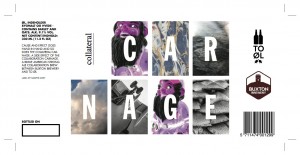 One of the only examples of a British brewed American Strong Ale. Exactly the sort of concept ripe for a international collaboration beer. One of the most interesting beers you'll try all year, for sure.

Collaborations in craft beer are all the rage. As well as great cross promotion for both breweries involved, they serve as an excuse to dabble at the fringes of brewing styles and continue to break new ground in what might be possible in brewing alongside the larger volumes of pale ales, stouts and lagers – still the bread and butter of the industry, even at the craft end. For us beer geeks, lots of collabs mean lots of wonderful, new and interesting beers to try, which is never a bad thing. This first Cellar Builder box is testament to that esoteric and experimental collab ethos, featuring, as it does, six very different collaboration beers.
Five of the collaborations in this month's Cellar Builder selection come courtesy of the forward thinking bods at Buxton Brewery in Derbyshire and represent their working with brewers in places as far flung as New York (Evil Twin), Arizona (Arizona Wilderness) and T0 Øl (Copenhagen). The two collabs with T0 Øl represent different takes of a similar idea, American, strong and hoppy.
Collateral Carnage is a massive 9.1% ABV. American strong ale brewed with oats. It's a resinous bittersweet monster with a thick body, is loaded with concentrated tropical fruit and exotic citrus fruit flavours and has an appropriately aggressive finish. All are qualities you want in an American strong ale. An often nebulous and vague style it has to be said. The most well known American strong ale is Stone's Arrogant Bastard, an intentionally unbalanced and overly hopped big piney West Coast red ale. While less maniacal than that beer, Collateral Carnage is no less impressive or enjoyable and it's great to see this oft overlooked style being brewed on U.K. soil.
The slightly less strong, but certainly no quieter flip-side to this double header collaboration with T0 Øl, is the 2014 edition of Buxton's Collaboration Carnage. This beer is a 7.4% all-American style juicy hop bomb IPA with similarly exotic fruit notes as Collateral, but with a more straightforward pine focus and general dankness. It is also significantly drier, as you'd expect for a American style IPA.
If the quality, depth and breadth of the six collabs in this box, and the enthusiasm and continued excitement we as beer drinkers seem to have for every new collaboration beer that comes along is any indicator, then there is no reason why the fertile brewery collaboration beer trend should die out any time soon.