| 10.3% ABV. | English Barleywine | Buxton, Derbyshire, England Buxton, Derbyshire, England | 330ml bottle |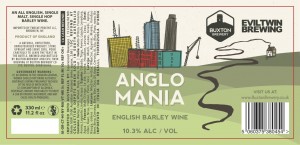 The English Barley Wine is long overdue a widespread resurrection and reappraisal in its homeland. This full bodied and warming incarnation of the style will certainly go someway to seeing that resurrection come about.
The quintessential English barleywine should have layers of rich dark toffee and bittersweet burnt caramel flavour and a lingering building warmth from a high alcohol content. It's a beer style that should be nothing short of indulgent. In essence, a drink to be sipped and savoured over an extended period of time. Possibly by a roaring fireplace. With a plate of stilton and crackers. You get the picture.
The barleywine has featured prominently in the craft beer movement in the United States since day one – day one being the mid 1970's. It's one of the "old" British beer styles, along with the porter and India pale ale, that the late great Fritz Maytag of San Francisco brewing institution, Anchor, was keen to brew after he took over the brewery. These days, the majority of America's 3000 plus craft breweries brew some iteration of a barleywine, be it the traditional sweeter English variety or it's newer and hoppier American cousin. In many instances, American craft breweries will now release a handful of different barleywines, especially sought after are those aged in Bourbon barrels, so complimentary are their respective sweet, warming and malty flavour profiles.
The U.K. craft beer industry is quite a bit younger than it is in the U.S, which might go some way to explaining why the barleywine has yet to see a real resurgence in it's homeland – at least anything of the magnitude and reverence the style now commands in America. That's not to say that some forward thinking and bold U.K. craft brewers haven't dabbled with the style. BrewDog have brewed a couple of American style barleywines and Magic Rock's Strongman has a small but vocal cult following.
There are still a small handful of classic English barleywines brewed in the U.K. Fuller's Golden Pride, J.W. Lee's Harvest Ale and Adnams Tally Ho, are all winter seasonal releases that are still held in high regard among those aware of them, but these represent only a tiny glimpse of a style whose popularity had all but died out in the U.K. until very recently. If you've never tasted these, we highly recommend that you seek out and try all of these classic examples of true English barleywines. Buy multiple so that you can drink one (or two) now and put some away to try next year and the year after. Do this and you'll see how cellaring can really change and often improve a strong beers flavour over time.
We at The Beer Vault predict that barleywine will be one of the styles that British craft brewers will rediscover en mass in 2015. We hope so, anyway. Predicting that, Buxton and Brooklyn based gypsy brewer Evil Twin are well ahead of the oncoming trend. Earlier in 2014, the pair got together at Buxton's facility in Derbyshire to brew this hulking SMaSH barleywine. SMaSH is brewing shorthand for a beer brewed using only a single hop variety and single malt variety. The resulting beer called Anglomania clocks in at a massive 10.3% ABV. The beer is loaded with everything you'd expect from a warming and sticky fireside sipper. Notes of fruit cake, caramel, toffee and brown sugar all swirl and coat the palate from the very first sip. It's a wonderful example of the uniqueness of the style and we hope that this beer provides further incentive to Britain's talented craft brewers to load up on their malt orders for 2015 and start planning their big barleywine recipes in the New Year.