We hope you're enjoying your December Beer Vault box!
We hope you found your beers in the massive boxes we accidentally bought.... Perhaps some smaller ones for next time... 😉
Seriously, Thanks for Being One of Our First Members
We can't tell you how much we appreciate you putting your trust in us, right now when we're launching the club. It means a lot to know that people like the selections we've put together. We'll be working hard to make sure we keep impressing you!
This page is designed to guide you to the tasting notes, and the further information about the beer. We want to give you as much information as we can about what you're drinking, so we thought it was far better to do it this way than try to stick a big book in the box. Plus, it means we can make sure our costs go to better beer rather than printers!
PS. Seriously, those boxes were huge weren't they? Make sure to rummage around in the packaging and find an extra wee treat. Enjoy!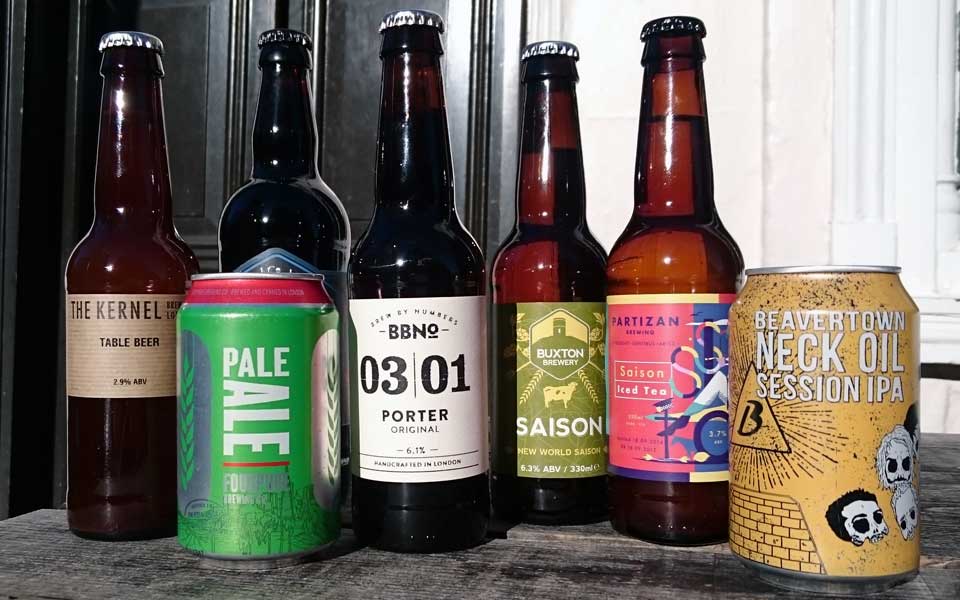 Lockbox Member? Here's The Skinny
You'll find all the information on the beers you're drinking below. Click on the more info link to get the full details.
We've also recorded a Podcast for you where we're tasting the beers, talking about the brewers, the history and the industry at large, so get that downloaded onto your phone and have a listen! It's a little long (we're still learning!) but hopefully it'll be entertaining enough to keep you going! You can listen below or download it from here. We'll be making this available as a true Podcast feed soon, so you can subscribe in iTunes or on Android.
Please let us know what you think of the podcast, and the tasting notes. We'd love to provide more of what you want to see around the beers, so all feedback is appreciated. Just hit us up on our contact page.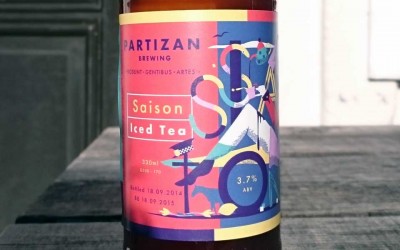 (3.8% ABV. Saison, London, England) 330ml bottle Like tea? Like beer? So do Partizan, so much so that they've carefully fused the two most enjoyed beverages in the world together for your enjoyment.  Partizan love saisons and clearly love experimenting with adjuncts in them. In beer terms adjuncts are anything other than malts, hops, yeast and water. In the past, the bold and clever bods at Partizan have spiced saisons with everything from black pepper, thyme and mango to lemongrass, fennel and lychee. The practice of adding unorthodox grains and fruit to farmhouse ales isn't without historical precedent. French and Belgian farmers would frequently use leftover small batch grains and fruits to add fermentable sugars and flavours to their provisional ales.  With Iced Tea, Partizan have taken this notion and ran with it in a quite literally fresh direction. The beer is brewed with lemon, lime and orange zests and a healthy amount of green tea. The result is a spicy and refreshing Belgian farmhouse table beer with an earthy, slightly astringent body and dry finish. Needless to say the aroma erupts with citrus notes. We think Partizan are one of the most exciting new breweries in Europe, so expect to see more beers by them in future Beer Vault... read more
Vault Reserve Member? Here's Yours
You guys have a real treat in store, and it's not only the legend that is the Westy! Our bottles this month from Burning Sky and the Bristol Beer Factory are simply outstanding. Have a look below for the background and tasting notes for each of these amazing bottles.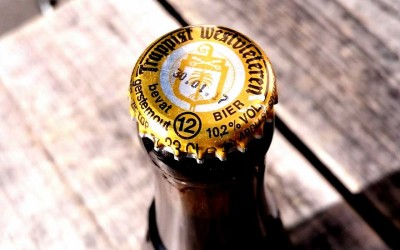 (10.2% ABV. Quadrupel, Westvleteren, Belgium) 330ml bottle Westvleteren 12 (XII) is the most sought after beer on the planet, bar none. A world class Trappist Belgian quadrupel style beer with few peers. The most limited production, regularly brewed, Trappist ale. Laden with rich candied dark fruit and bittersweet molasses flavour and aroma. Matures incredibly well when cellared. With few notable exceptions, Russian River's Pliny the Elder and Younger, and Three Floyds Dark Lord aside perhaps, no beer has ever garnered so much buzz and rumour as Westvleteren 12 (Westy 12 to its friends). For many beer lovers and beer geeks, Westy 12 is an extremely elusive fermented pot of gold at the end of a hoppy rainbow. To say you have actually tasted the beer continues to be a point of pride for beer drinkers both old and new. A mark as it were, of just how serious a beer nerd you actually are. There are a few simple reasons why this one Belgian beer has become such an iconic point of desire. It is brewed in relatively small amounts at the Trappist monastery Abbey of Saint Sixtus of Westvleteren, alongside only two other beers; Westvleteren Blonde, a 5.8% ABV. Belgian style pale ale and Westvleteren 8 (VIII), a malty 8% ABV. mahogany coloured Belgian style Dubbel. With the exception of a small amount that was sent to market a couple of years ago in Europe and the U.S., the beer is not distributed at all and must be collected from the brewery itself. This lack of distribution combined with the fact that the beer garners the highest ratings... read more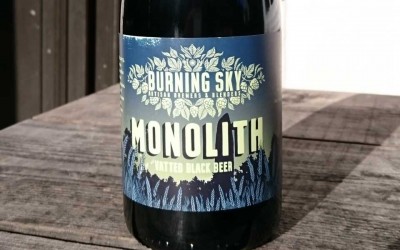 | 8.0% ABV | English Wild Ale | Lewes, East Sussex, England | 750ml bottle | Monolith is one of a rapidly growing number of English produced sour and wild ales. Bittersweet with an acidic edge and an intentionally funky aroma, this soured black beer spent eight months resting in an oak foudre that previously housed Chianti. Sour beers and ales fermented with "wild" Brettanomyces (or Brett) yeast strains, are becoming more and more popular in the U.K. This is in large part due to the sterling efforts of Somerset's Wild Beer Co. While there are other breweries in the U.K. producing excellent sour and Brett fermented ales, few are doing it with the dedication, regularity and celebration that Wild Beer are or to the extent that many U.S. craft brewers now are. You can however now add Burning Sky to the short list of British breweries taking sour and Brett beers very seriously indeed. Like Wild Beer Co., this East Sussex based brewery is dedicating significant time, infrastructure and cash to building an ambitious barrel aging and sour beer program. In an effort to help supplement their bold wood based venture, Burning Sky produces a core range of high quality American style pale ales, IPAs and Belgian farmhouse style saisons. The relatively short turnaround time of these ales means the brewery can remain financially operational until the sour projects, which have a much longer maturation time, are ready. Monolith has many of the same characteristics that distinguish the archetypal Flemish red sour ales produced by Rodenbach, the much lauded modern pioneer of aging soured beer on a large... read more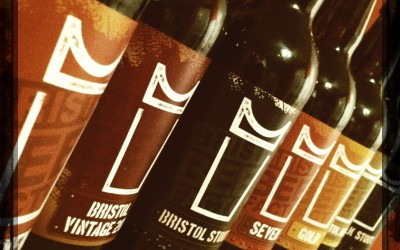 (10.0% ABV. Wheatwine, Bristol, England) 330ml bottle One of the very first commercially brewed wheatwines in the U.K. Rich, desserty and beautifully complex. A beer with massive cellaring potential as well as being moreish and delicious freshly bottled. In keeping with many native examples of this new American strong ale style, Bristol Beer Factory have keenly experimented with the base idea of a strong wheat ale by aging it in bourbon barrels and by blending in some cold brewed coffee courtesy of Bristol's Extract Coffee Roasters. The malt bill of the beer is 75% wheat. For the uninitiated and non-brewers among you, that is a very high percentage indeed. The result of so much wheat; without getting too sciencey, provides loads of fermentable sugars for the yeast to eat up and convert onward to a hefty 10.0% ABV. Equally important is the uniquely smooth, creamy and full mouth feel that so much wheat protein gives the beer. Add to that the vanilla notes from the oak bourbon barrels and the roasted cocoa notes of the high quality Extract coffee and it's not a stretch to describe this beer's overall flavour and aroma as vanilla latte like. This is the third release in Bristol Beer Factory's new Unlimited series of small batch limited release beers following a 7.0% ABV. Belgian Rye and an 8.5% ABV. Double IPA. This being a robust and strong wheatwine, it's the first brew in the series that has significant cellaring potential, the Belgian Rye and DIPA being designed to be enjoyed as fresh as possible. The aging and evolutionary potential of Wheat Wine is especially exciting... read more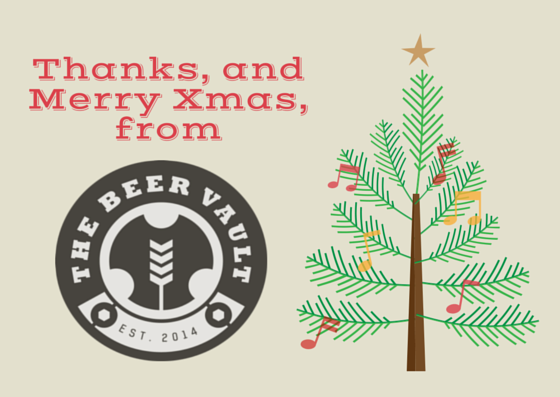 Looking For More? Here's a Beer Gift, for You or Someone Else!
We mentioned the Cellar Builder in your printed newsletter. If you want to check it out, either as a self-Santa (c'mon, you deserve it!) or as a last minute Christmas present for someone else, then have a look here.
The Cellar Builder Box
Last Call for Pre-Xmas Delivery