| 10.8% ABV. | Imperial Porter | Henley-on-Thames, England | 750ml bottle |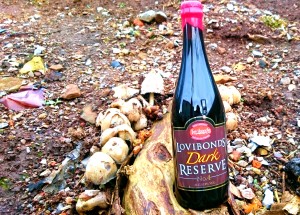 A strong and sophisticated Maker's Mark barrel aged Imperial porter that pops with notes of vanilla, coconut, tart dark fruit and maple syrup.
One of two very interesting rare barrel aged beers in our Vault Reserve box this month, Lovibonds Dark Reserve No.4 is a massive Imperial strength porter aged in Maker's Mark Kentucky Straight Bourbon barrels and packaged in an impressive red wax dipped bottle, aping – possibly intentionally, the iconic red wax sealed Maker's Mark bottle.
Alongside the likes of Thornbridge, Moor Beer and BrewDog, Henley-on-Thames based Lovibonds are one of Britain's true craft beer pioneers, having opened for business way back in 2005. Brewery founder and brewer Jeff Rosenmeier has since gone on to earn a deserved reputation as producer of some of the very best beers across the brewing spectrum, from winning international awards and kudos for his wine barrel aged sour beer Sour Grapes to building a dedicated drinkership for his generously hopped and expertly executed American IPA, 69.
The Dark Reserve series of beers started life as a stronger incarnation of Lovibonds core beer Henley Dark, a traditional style London Porter that was then aged in Jack Daniel's Tennessee whiskey barrels. The winning creation was bottled and designated Dark Reserve No. 1 and clocked in at pleasingly robust and chocolatey 7.4% ABV. (alcohol by volume.) This latest entry in the series steps up the alcohol to a warming and highly cellarable 10.8%. If you choose to, this is a beer than can be stashed away in your beer cellar for a special occasion many years from now.
Porters are traditionally distinguished from stouts by their slightly lighter body and more astringent and tart fruity flavour, inherent characteristics that are amped up in this beer due to its sheer massiveness. The oak derived vanilla and maple notes of the Maker's Mark soaked barrel staves, soften and sweeten the big astringency. The finished beer is simply luxurious and finessed. The Bourbon sweetness never overpowers those classic and desired tart dark berry and charred roasty porter notes.
As with Harbour's Bordeaux Barrel Aged Dunkel Bock – also showcased in this month's Vault Reserve box, Lovibonds Dark Reserve No.4 is a magnificent example of the added layers of welcome complexity a second use oak barrel can add to an already very well brewed beer. Barrel aged beer programs at many breweries in the U.S. have gone on to take on a life of their own, driven by both the wider beer drinking population's increasingly sophisticated palate and by brewers unchained passion and creativity for the art of aging beer in wood. The same too is now beginning to happen here in the U.K., which for us more adventurous beer drinking types is very good news indeed.