| 6.5% ABV. | Dunkler Bock | Bodmin, England | 330ml bottle |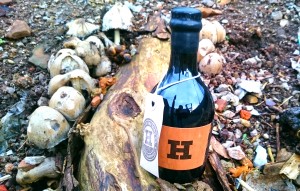 An eyebrow raising combo of fruity red wine barrel and robust dark Bavarian style lager, and a truly delicious example of the boldness and creativity of British craft brewing in 2015. A rare beer that deserves to be savoured as such.
It's still very early days for the craft beer movement in the U.K. but as it continues to grow and mature, we're already seeing the first signs of creative and exciting long term wood barrel aging programs of the sort that every state in the U.S. already has multiple of as we enter 2015. Back home the likes of Cornwall's Harbour and many others are now following boldly in the wood pioneering footsteps of Wild Beer Co., Harviestoun, Siren Craft Brew and BrewDog by putting interesting beer styles in wood for extended maturation and enhancement.
The practice of wood aging beer is hardly new, it is in fact of course the way beer was fermented and stored for most of the history of brewing. The age of affordable and much easier to manage and sanitise mass production steel meant that wood fell out favour almost overnight. Much was gained in the beer industry with the introduction of steel, cleaner beer and the ability to quickly produce more of it in a shorter space of time being the most obvious and significant gains. It's safe to say that most beer drinkers, publicans and brewers didn't miss wood all that much to begin with. That said, something was indeed lost when wood was taken out of the beer production equation. Wood and the cellulose and tannins in it have the ability to really add complexity to a beer. Factor in second use oak barrels that have previously housed wine and spirits and the layers of gorgeous flavour and aroma that wood can impart a beer with can be simply jaw-dropping, in the most agreeable sense of the word.
As soon as we heard that Harbour, one of our favourite British brewers has produced a new barrel aged beer we were immediately excited. When we heard that it was a highly unusual barrel aged beer, a Bordeaux wine barrel aged bittersweet caramel suffuse Bavarian styled dunkler bock, we had to taste it as soon as possible, and we're glad we did. Harbour have only produced 600 bottles of this truly captivating combo of a beer and we were lucky enough to source 50 of them for The Vault.
Whether you choose to cellar this beauty of a beer – and you can cellar it for at least a couple of years thanks to it's extended wine barrel maturation, or drink it fresh, you can expect a stunning initial hit of classic dark fruit vinous red wine aromatics complemented by robust and rich treacle toffee and silky sweet caramel notes. The beer's finish is a lovely swirl of contrasty dry cranberry and brown sugar.
This very different beer was a big surprise to us, in all of the best ways, it's a shining example of what wood aging can bring to beer. Add to that, it's a beer that brilliantly highlights how far the British craft beer industry has come in a very short space of time. An exciting beer at an exciting time for beer drinkers.