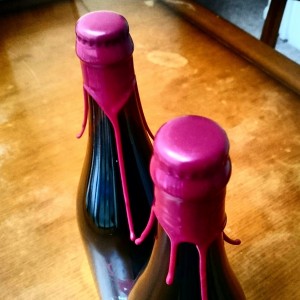 Wild Beer Co. Wineybeest
| 11.0% ABV. | Imperial Stout | Evercreech, England | 750ml bottle |
This spectacular beer is Wild Beer Co.'s luxurious and much praised 11.0% ABV. Imperial espresso chocolate vanilla stout Wildebeest aged in Burgundy Pinot Noir barrels for nine months. Ladies and gentlemen, this is Wineybeest. Only two oak barrels of the beer have been produced and only five hundred bottles released.
In keeping with our mission to source the best and most exclusive limited release beers for our Vault Reserve members each month, we've secured one tenth of those bottles just for you.
Wildebeest is an incredibly rich, unctuous and desserty beer, loaded with sweet vanilla beans, Valrhona cocoa nibs and roasted Colombian coffee. To this already multi-layered and sophisticated sipping ale, the extended nine month red wine barrel maturation delivers a vinous and jam-like red berry quality that is akin to the cherry topping on an expensive cheesecake. In other words, it just makes the whole experience even more indulgent.
From massive saisons to sours and strong ales, Wild Beer has produced no shortage of very high caliber beers suitable for cellaring. In addition to Wildebeest and Wineybeest they've also produced Whiskebeest, which as the name suggests is a whisky cask aged version of Wildebeest. In fact, so prolific and consistent have the Somerset brewery been at cranking out cellarable hit after hit, that you'd be forgiven for not having a cupboard full of Wild Beer goodies. Wineybeest then has pedigree and follows in some very well established and highly regarded footsteps, and it definitely comes through in the beer. Hyperbole and superlatives are two-a-penny in the craft beer world, but we can say without any hesitation whatsoever that Wineybeest is one of the most impressive barrel aged stouts released anywhere in the world in the past twelve months. If you're lucky enough to get your hands on a bottle of the beer, then your only dilemma is going to be whether to enjoy it now or save it for a special occasion. When it comes to saving this beer, we predict that it will evolve and age very well indeed for as many years as you can stand to stash it away and not touch it.
Against the Grain London Balling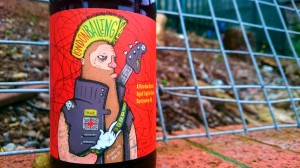 | 12.5% ABV | English Barleywine | Louisville, United States | 355ml bottle |
Louisville, Kentucky based Against the Grain are one of America's new-new wave of globe trotting, boisterous and irreverent craft brewers, enthusiastically pumping out an ever evolving selection of outlandish special releases alongside a more expected roster of no holds barred pale ales, IPA's, ambers and stouts. They also have a hilarious line in puntastic beer names, seriously, just go check out the long list of previous brews on their website.
This being the Vault Reserve, we've obviously dug deep and chosen to showcase something very special by this exciting brewery. London Balling is a massive 12.5% ABV. English Barleywine aged for three months in Angel's Envy bourbon barrels to impart stacks on lush vanilla, coconut and rich toffee notes to this already sweet and warming strong ale. The result, as expected, is a bourbon barrel barleywine amplified in all of the ways you'd hope it would be. Don't go thinking it's all sugary sweetness and booze though, London Balling is no shrinking violet in the bitterness department, clocking in at a more than respectable 80 IBUs (International Bitterness Units) which come courtesy of plenty of earthy English Nugget and Kent Goldings hops, lending the beer a lovely balanced roundness.
Given that this is a huge English style barleywine, it's built to last, and last for a very long time at that. This beer can if you decide to, be put away for north of twenty years and still have the potential to emerge a magnificent after dinner treat or warming nightcap – to be enjoyed from a brandy style snifter, naturally.
English style barleywines aged in bourbon barrels are a rarity in the U.K. so this is a fantastic opportunity to try a rare coming together of complimentary strong and decadently sweet Transatlantic flavours.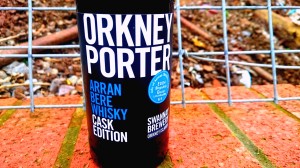 Highland (Swannay Brewery) Barrel Aged Orkney Porter
| 10.5% ABV. | Imperial Porter | Orkney, Scotland | 330ml bottle |
Our third Vault Reserve offering this month is Highland's rich and robust Orkney Porter that's had the pleasure of an 18 month vacation in Isle of Arran Bere whisky casks. Few whisky cask aged dark beers we've tasted in the past couple of years, integrate so successfully the potent and peaty flavours of a single malt whisky with the bitter espresso and earthy dark chocolate notes of a big Imperial stout, as this does. It's not uncommon for whisky cask aged stouts and porters to be overly dominated by the residual whisky character. This beer though brings just the right about of wood, whiskey and smokiness to the party. The 18 month oak maturation has softened the big porters naturally pokey boozy edges and added layers of toasted caramel, charcoal and a just a touch of TCP. Orkney Porter is 9.0% ABV. going into the whisky soaked wood, emerging a year and half later at a slightly more full and warming 10.5% ABV. This boost in alcohol gives the beer a lovely long finish, especially perfect for cold winter nights.