| 6.6% ABV. | Saison | Caerphilly, Wales | 330ml bottle |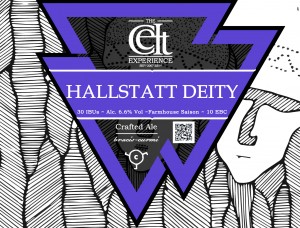 An unfiltered Belgian farmhouse ale brewed with a boatload of tart and luscious pomegranate and aged for 2 months before bottling.
We've featured a few saisons in our beer boxes during our first two months of business here a The Beer Vault – both British brewed and Belgian. This noble and storied Belgian farmhouse beer style went for far too long unnoticed and thus underappreciated here in the U.K. Not only was it hard to find saisons on shop shelves, save for the occasional bottle of Brasserie Dupont's classic, it wasn't a style that any British brewery cared to brew either. Thankfully all that has changed now. For a few years now, many forward thinking British breweries have turned their hand to this beautiful and most versatile of beers, some even brewing many variations of the style – London creatives Partizan spring to mind immediately, as do new Brighton based brewery Burning Sky. Both seem to have a particular affinity for the style and thus brew saisons throughout the year, many brewed with all manner of interesting flavouring ingredients. Caerphilly based Celt Experience are another brewery that in recent years has made no secret of their love of farmhouse ales, and not just saisons either, but it's even more esoteric French cousin the Bière de Garde.
We have discussed the story of saisons at length in our reviews of previously featured beers, Buxton Saison, Partizan Iced Tea and Blaugies La Moneuse, so if you fancy reading about the style in more depth that's a great place to start. How the beer style came about makes for interesting reading.
Historically, the addition of spices, herbs and fruit to saisons, was not uncommon. Deity Pomegranate follows hot on the heels of Home of the Fruitcakes, another fruit based saison that Celt brewed in collaboration with BrewDog. That beer was brewed with a massive addition of strawberry and raspberry. Celt uses Brasserie Dupont's saison yeast strain to make it's Belgian style farmhouse ales. It's a yeast that has the ability to really chew through a lot of fermentable sugar and a dry a beer out to a very agreeable finish. It also lends saisons a unique and very pleasant spicy aroma. The use of pomegranate in this beer makes for a tart fruity flavour and slightly tropical nose. Saisons were traditionally brewed as provisional beers to be stored for many months prior to drinking. As such, Celt replicated this extended maturation in this instance by allowing the beer to naturally condition for a least 2 months before bottling.
This beer is unfiltered and bottled conditioned and should be allowed to settle in a fridge for at least a couple of hours before being carefully poured, leaving any sediment in the bottom of the bottle.