| 5.5% ABV. | Smoked Beer | Bristol, England | 500ml bottles |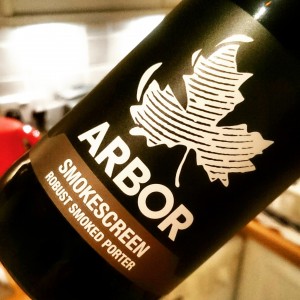 A bold mashup of traditional British and German beer styles. Loaded with dark chocolate and smokey bacon notes. Impressively decadent and characterful for a session beer.
Smoked beers or Rauchbier ("smoke beer" in German), are traditionally the domain of Bamberg, Germany. It's here that the art of beers brewed with wood smoked malt has been elevated to an art and has been perfected over many generations. The smoky bacon flavour is imparted by drying malt over an open flame. In the era before more industrialised indirect kilning technology, this flavourful method was a point of practically more than anything else. Smoky flavoured beer was at one point pretty common all over the World, but new brewing technology meant that this, and many other old beer making techniques were eventually supplanted in favour of producing a more consistent, profitable and "clean" end product. Thankfully though, the populace in the Bamberg region of Germany rather enjoyed the smoky character of their beers and were in no rush to clean them up, as it were. And so, a small pocket of the World retained its much loved smoky beer.
In today's lively and creative international craft beer industry, many brewers around the World are eager to try their hand at every beer style imaginable. Smoked beer is one such style that many brewers in the U.K. and U.S. are have been keen to experiment with. The smoked malt produced by Bamberg maltster Weyermann is the most highly prized in the World. Proof, if ever, that holding on to old ways and means, isn't necessarily a bad thing, and can prove to be the smart decision in the long run.
In addition to their wide and ever evolving selection of very well brewed pale, amber and stout styles, Bristol's much loved and highly rated Arbor Ales really enjoys brewing more fringe and esoteric styles. In recent years they have produced an impressive range of high ABV. (alcohol by volume) imperial stouts and barleywines as well as various French and Belgian style farmhouse ales. Smokescreen is Arbor's most recent smoked beer and is one of the most impressive dark beers we've tasted in a long time. For a session strength beer – 5.5% ABV. it packs an incredible wallop of flavour and aroma. It's loaded with lush dark cocoa and charred bacon notes. The beer has a full body and a smooth chocolatey finish. The smoked character in traditional rauchbiers can be overwhelming if you're not used it, that's not that case with Smokescreen, this is a beer that perfectly balances and integrates it's smoky character to delicious effect.