(4.8% ABV. American Amber Ale, Evercreech, Somerset, England) 330ml bottle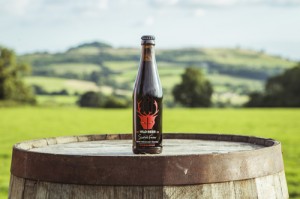 Wild Beer Co. have many brewing talents, one of which is utilising bold new world hops varieties to enliven old world beer styles. Ladies and gentlemen, Scarlett Fever.
West Country craft beer pioneers Wild Beer Co. are rapidly becoming best known on both sides of the Atlantic for their increasingly creative and admirably consistent funky saisons and pucker inducing sour beers.
In addition to their more esoteric beers, Wild Beer Co. brew an outstanding selection of core beers, beers like their highly quaffable Fresh pale ale, dank and resinous Madness IPA and their reimagined English red ale Scarlett Fever. Scarlett Fever is the careful result of blending a traditional English amber pub ale with big bold citrus and pine evoking New World hops. The deep caramelised backbone of the beer is perfectly offset by a robust earthy bitterness while the late addition hops provide a fresh pithy finish. The aroma has a wonderfully concentrated herbal bite.
Scareltt Fever is proof, if any were needed, that Wild Beer Co. are one of the U.K.'s most exciting and diverse craft breweries, able to brew everyday session beers of the highest standard, as well as some of the most interesting and challenging beers in Europe.