(4.5% ABV. Sweet Stout, London, England) 500ml bottle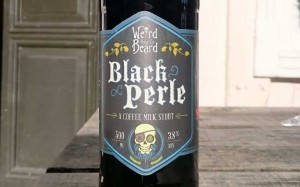 Artisan roasted coffee is rapidly becoming a standard fifth ingredient in the professional brewers arsenal and when the end result is this good, you might start wondering why it took so long!
Brewed in collaboration with South London coffee roaster Alchemy, this single hopped milk stout is allowed to condition on heaps of Costa Rican Zamorana beans, producing a rich, but extremely sessionable beer that evokes many of the best attributes of an early morning latte. Sweet, ever so slightly creamy, with a deep dark roasted cocoa roast, it is one the U.K's standout low ABV. stouts.
There's no actual milk in milk stouts, their sweetness is derived from lactose or milk sugars. The beer is brewed exclusively with Perle hops, a German all purpose variety with a delicate floral quality, perfect for a sessionable stout with a lot of complex and potentially conflicting flavour and aroma characteristics.
Try pairing this sweet little number with a bar of your favourite milk chocolate and you'll be utterly hooked; possibly to the point of writing a thank you email to the beardy weirdies at Weird Beard.