(6.0% ABV. Porter, London, England) 330ml bottle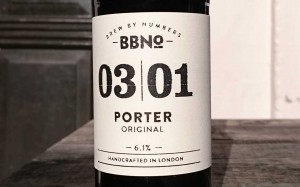 What goes around, comes around, and that's a good thing in the case of porter beers. Original is one of three outstanding porter styles that London upstart Brew By Numbers produces.
Once upon a time robust dark brown and mahogany porters were the toast of London, being drunk in abundance by the working class and elite without prejudice. They were particularly popular with hard working street and dockside porters after whom the beer style is said to have acquired its name.
In terms of aroma and flavour, think of the porter as stout's slightly more astringent and tart fruity cousin. Porters fell out of mainstream favour in the U.K. in the face of the ever more pervasive mass produced pale ale and lager onslaught of the 1960's and 1970's. Happily though, the style, alongside fellow English stalwarts the India pale ale and barleywine, found new appreciation in America among the uninhibited fledgingly craft brewers of the 1970's – being most notably championed by San Francisco's Anchor Brewing Co. Today porters are brewed on a regular or seasonal basis by most craft breweries in the U.S. and U.K. and are once again a staple of any self respecting pub in the British Isles.
Brew By Numbers actually brews three porters as standard, the lushly textured, rich and chocolatey Original that we're featuring this month, the complex and boozy Traditional, and Liberty, a more aggressively hopped American style porter. So then, enjoy this outstanding ode to London's brewing past brewed by one of the it's newest and best breweries. After one bottle, we think you'll agree that it's good that porter is thriving once again.