| 4.7% ABV. | Sour Pale | Buxton, Derbyshire, England Buxton, Derbyshire, England | 330ml bottle |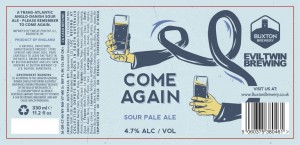 An exciting fusion of fresh, hoppy and tart sourness, and a brilliant example of the creativity that underlines so many of the collaboration projects happening in the craft beer industry at the moment.
In 2013 you would have been very hard pressed to find a British brewed sour beer at all. As we enter 2015 though, it's a very different story altogether. Throughout 2014 we've seen a huge increase in the number of U.K. produced kettle sours. Without getting too sciency just yet, think of kettle sours as quick-to-produce sour beer. There has also been an increase in the number of more traditional long maturation Belgian inspired sours, of the sort that can take years to produce. By their very fickle and slow to produce nature, we just haven't seen as many of them on the market yet, but they're coming, trust me. Somerset's Wild Beer Co. has been forging some particularly impressive ground when it comes to long maturation sours, but that's a story for another day.
Buxton are one of the English breweries creatively spearheading the bleeding edge of craft beer in the U.K. alongside the likes of The Kernel, Magic Rock, Siren, Beavertown, Partizan and Wild Beer Co. This band of colourful breweries isn't just making waves at home in the U.K. either, but also in the significantly more well established and demanding craft beer market in the United States.
Collaborations, like sour beers, are all the rage in craft beer at the moment, they serve to excite the brewers with new and challenging ideas as well as build camaraderie within an increasingly competitive industry. More importantly, for the consumer, collaboration beers provide an interesting and seemingly unending plethora of extreme and exotic new beers to try.
Buxton's Come Again Sour Pale ale couldn't be more "of the moment." It's both a sour beer and a collaboration beer, moreover it's a collab with an equally exciting brewery – Brooklyn based gypsy brewery Evil Twin. Evil Twin was founded by Danish expat Jeppe Jarnit-Bjergsø, brother of Mikkel Borg-Bjergsø of Mikkeller brewing fame.
Come Again is a soured American style pale ale. Tart, clean and dry, it fuses together two flavour profiles not commonly thought to work together, that of the aggressively hop forward New World hop bomb and that of a razor sharp acid suffuse European sour beer. And, it works. Wonderfully well in fact. Come Again is a bold and brilliant example that preconceptions can and should be consistently challenged. This is exactly the kind of beer that captures the imagination of new and old beer drinkers alike, it's unusual, outlandish, exciting and fresh.