Craft Beer Reviews & Tasting Notes
If you're a fine member of The Beer Vault, you'll find your reviews and tasting notes below. The Vault Reserve comes first, and you'll find the Lock Box below that. We cover many of our beers in-depth so that you can learn as you taste, developing your Craft Beer knowledge over time.
The Vault Reserve: Our Reviews and Tasting Notes
(You'll find the Lockbox below!)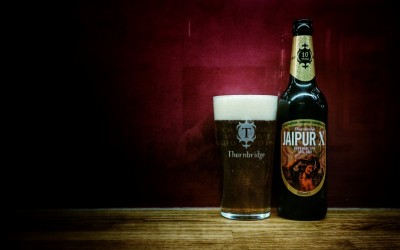 10% ABV | DIPA | 500ml | Thornbridge Brewery | Bakewell, Derbyshire You've heard it before, that time-tested adage craft breweries love to spout in the "About Us" sections of their websites: "We're a new world brewery, marrying the traditions of old with the modern technology of today…", etcetera, etcetera. And they're not wrong to suggest that this is the best policy; after all, what could possibly be wrong with empowering what the past got right with the technology of today? So, really, combining the old and the new totally checks out. But few breweries go to the lengths that Thornbridge Brewing have in order to observe this delicate dichotomy (or, as they call it, "traditional recipes but provided a modern twist"). Thanks to their skyrocketing success – they garnered over 350 national and international awards in their quick decade of existence- Thornbridge has erected twin brew sites: the original, in Thornbridge Hall, and a spin-off in Riverside in Bakewell. The original site is a bastion of tradition and experimentation, the birthplace of many of Thornbridge's uncommon, rare, and uncertain beers. Stocked with barrels and a traditional mash ale brewing system, this is where Thornbridge honors history while establishing its future. The sister site, meanwhile, is the epitome of modern brew house and quality control, able to contend with demand for Thornbridge's beer with state of the art equipment. Each site has their own methods and MO, but are allied in the same mission statement: to become "one of the leading new breweries in the UK." So how's that going for them? Let's look at Jaipur…X. Jaipur X is the... read more
The Lock Box: Our Reviews and Tasting Notes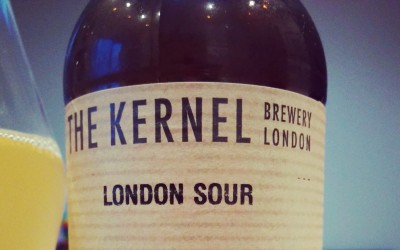 3.1% ABV | Sour | 330ml | Kernel Brewery | London Kernal Brewing, according to the brewers themselves, "springs from the need to have more good beer" – as though anyone needed any more reason than that to start a brewery. But we're certainly happy they did – this pragmatic brewery, located near the heart of London, eschews ornament and decadence in favor of positively nailing the classics. With a minimalist website, label, and general all-around vibe, Kernel nevertheless adamantly seeks to create "beer deserving of a certain attention." Their weapons of choice are their "upfront hops, lingering bitternesses, warming alcohols [and] bodies of malt." Such tools mingle artfully to create carefully and caringly brewed beers, and Kernal offers your favorite styles with confidence. One such offering is their London Sour, an impressive beer in the classic Berliner Weisse style. For the uninitiated, a Berliner Weisse is Germany's offering of what is colloquially called a Sour: a tart, low-alcohol beer that makes use of lactic acid in tandem with traditional ale yeast to create a distinctive, tongue-puckering funkiness. A beer with a storied history that reaches back into the 16th Century, Berlineer Weisses, as well as their quirky Belgian brother, the lambic, have recently propelled to the forefront of the modern beer scene. Berliner Weisses are often served with some flavored syrup – raspberry and cherry are popular options – to balance out the sourness, but what you have here is the pure, unadulterated classic version. London Sour pours a hazy, pale yellow with a delicate white head, and gives off a mineral aroma. The first thing you'll notice... read more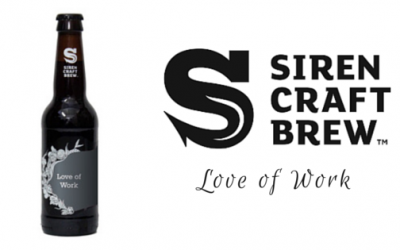 3.6% ABV | Earl Grey Pale | 330ml | Siren Craft Brew | Berkshire, England "All beer drinkers should be able to enjoy craft beer as wine drinkers enjoy the finest wine," claims Siren Craft Beer, and we're inclined to agree. Beer drinkers have often been relegated to a second-class enthusiasts, curmudgeons who would sooner crush an emptied can on their forehead than dissect the nuances of a fine Belgian Trippel. Luckily for us (the sophisticated beer chuggers of the world), breweries like Siren exist, eager to readily disprove this misconception and elevate the art of brewing of brewing to a level that parallels the offerings of any vineyard. Take that, sommeliers. Sophisticated and exacting, the brewers at Siren have an almost sinful amount of pride in their process. They make use of the finest ingredients. Their methods are measured and meticulous. They absolutely, positively care. Everything Siren does seeks to exalt the glorious and noble beer, and the fervor and passion in which they brew is an enviable force indeed. And it works. In a short period of time – they opened their doors in Berkshire in Berkshire in 2012 – Siren has garnered the adoration of the public, going from RateBeer's "Best New English Brewery" to "Best Brewery in England" in record time. But all of this sophistication lives alongside a certain playfulness that brings it all back down to earth. Celebrate the quality of your malt bill all you want, Siren, but you have a beer called Big Inflatable Cowboy Hat. And we like that about you. But we're not here to talk about cowboy hats, inflatable or otherwise.... read more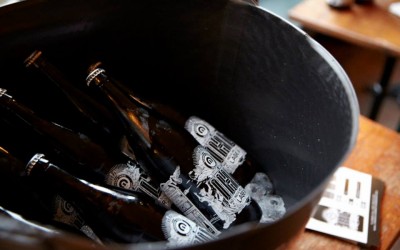 The Camden Town Brewery grew out of a desire to have outstanding locally sourced beers in the London area, including lager, wheat beer and pale ales that previously had to be imported. Owner and brewer Jasper Cuppaidge began experimenting and brewing cask beer in the cellar at his Horseshoe Pub in Hampstead, North London, where he regularly served his beer creations to pub clientele. The brewery then moved to it's current location, and since 2010 Camden Town Brewery has been operating as a microbrewery, making and selling a variety of beers in the London market. Today they operate right under the railway at Kentish Town, in seven old Victorian railway arches that have been converted into a state of the art brewery and pub. Camden brews a variety of 7 classic beers year round plus several limited edition beers and the Versus Series, a collaboration between Camden and other breweries. These brews are available in bottles, cans and kegs throughout England, Sweden, Australia and Japan. What is really intriguing about the Camden Barrel Aged IHL, besides the light and crisp flavor, beautiful rich amber color and unusual process, is the story of dedication and drive that made the beer. It took Camden a year of trial brews to create IHL, and the brewer nearly died in an explosion during the process! Thankfully he escaped with only injuries and now the world knows a superior IHL. Camden Barrel Aged IHL is very much like an India Pale ale but is actually a lager that is aged for six months in six Bourbon barrels and one Tequila barrel, after the aging... read more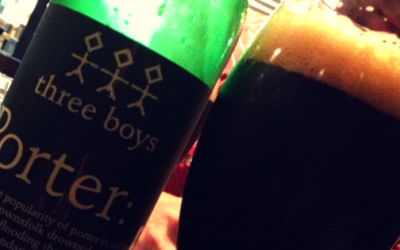 Out of Christchurch, New Zealand's award-winning Three Boys Brewery, the Three Boys Porter is an English-style porter that has taken the country (as well as various other parts of the world) by storm. With balanced and toasted malts (including a predominate chocolate malt), the beer boasts of a complex flavor. In addition to the malt addition, the unique hop variety is also to thank for the porter's distinctive characteristics. Using classic English Fuggle hops (which allow the beer to maintain its traditional porter taste) as well as various New Zealand hops (which give it both spiciness and originality), the brew is a creative twist on the standard porter. Coming in at 5.2% ABV, the Three Brothers' beer is in the mid-range of the ABV range for an average English porter. If anyone thinks it lacks in strength, however, that's more than made up for in flavor and character. The porter pours a deep—nearly black—color and has a consistently creamy brown head that provides lots of lacing. The porter has a surprisingly thin consistency that might threaten to compromise the integrity of the brew if it weren't for its unique and intriguing flavor. Like most porters, the brew has strong notes of coffee and chocolate (both aromatically and in flavor); however, Three Brothers Porter also offers a spicy, fruity twist on the original and an added kick, thanks to its extra hoppy essence. Its medium body and smooth, creamy texture are enhanced by additional notes of flavor: raspberry, blueberry, and a subtle roasted smokiness. With an incredibly sweet profile, the brew pairs well with more savory foods and various grilled meats, as it... read more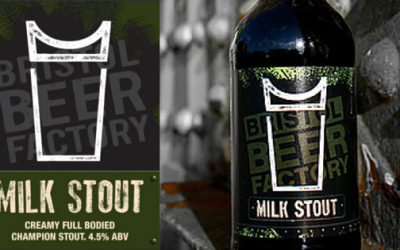 In a country with an already booming craft beer industry, a steadily growing number of breweries continue to push the boundaries, always willing to take a few chances. "Innovation and experimentation is the best way to run a brewery," is the adage of Bristol Beer Factory, for example, a small brigade of rebellious-spirited brewers from – where else – South Bristol. And this mentality manifests in their beer- the beloved standards, only slightly off-kilter. The brewery seems to relish in paying homage to the classics, with many of its offerings harking back to the "good old days," while striving to wrap them all with a fresh, modern face. Debuting in 2004, Bristol Beer Factory blossomed from a humble operation into a veritable, well, factory, of beer. Equal parts playful and traditional, the brewers relish in being part of the craft beer revolution while paying respects to the Ghosts of Beer Past.  And it's not difficult to see where their spirit comes from – they're brewing in an original 1904 brew house, the Ashton Gate brewery, a storied brewery that closed up shop in the 30's. "The company has a firm belief that all the great ideas are already within the 4 walls of the brewery," they claim, "it's just a matter of extracting them." And their fervor absolutely infuses their beer with plenty of character. "We're not afraid to try anything." It is perhaps this marrying of the old and the new that fuels the likes of their Sweet Stout (called, simply, Milk Stout), a popular offering that has nabbed them a few awards to boot (namely the National Championship... read more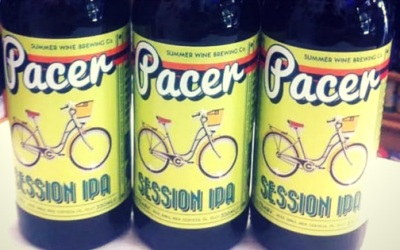 | 4.1% ABV | Session IPA | West Yorkshire, England | Sometimes, less is more. This is especially true with beer. Big brews with burly ABVs often don't lend themselves particularly well to beach days or all-nighters around a campfire, where the "just one more" mentality tends to reign supreme. Spring Good Times Enter the "session" IPA, a beer style that has come very much into fashion over the past few years, and it's easy to appreciate why: all of the vibrant personality and hoppy goodness of their big brothers, and yet manage to be every bit as smashable as the mass-brewed swill. These flavorful lil' guys tend to appear en masse as the summer months approach, meaning their heyday is upon us! It's difficult to find a craft brewer that doesn't offer at least one more casual beer for the season, meaning that summertime is the perfect time to down an entire six pack without risk of (too) much judgment. The Summer Wine Ethos One such offering comes from Summer Wine, a relatively new (they went commercial in 2008) brewery from Yorkshire. Focusing on beers that are "unapologetically flavour forward in nature," Summer Wine seeks to challenge the beer status quo that seems to rule the area; the Yorkshire beer scene has become, in their opinion, dormant and unsurprising. Instead of sticking strictly to this sleepy way of life, Summer Wine is determined to "tear up the rule book and…[redefine] how Yorkshire beer is perceived." Already growing at an impressive rate, the brewery promises that they've only just begun, and are bent on offering a pantheon of surprising beers... read more
Browse the Rest
You can see everything that's come before using this menu. For tasting notes, reviews and an idea of the quality we're delivering, have a browse.